On this page you can at your own convenience, book a warranty collection and arrange to have your sewing machine collected, checked and returned to your door.. at a day to suit you and within a 1 hour time window.

Three simple steps
FIRST - Book a collection date from the address you provide at checkout. (It is not possible to collect/return on Sat and Sun)
SECOND - Tell us the fault or issue you have with your sewing machine.
THIRD - Add to Cart, and pay for the collection and return of your sewing machine.

THIS COLLECTION OPTION IS FOR WARRANTY REPAIRS ONLY. IF YOUR MACHINE IS NOT A WARRANTY ISSUE PLEASE SEE OUR "BOOK A REPAIR" SERVICE
We are specialists in our field and have gained a vast knowledge of the faults sewing machines develop. Our knowledge helps us identify specific sewing machine problems quickly, which enables us to action our team of sewing machine engineers to identify a warranty issue and carry out the adjustments as needed.
Our engineers have been trained by PFAFF.
HOW DOES WARRANTY COLLECTION / RETURN WORK
Use this page to book a collection day.  Please pack the machine securely in its original box and packaging. We require a minimum of 2 WORKING DAYS notice to arrange a collection. Please note collections are not available on Saturday, Sunday and Bank Holidays.
Once we receive your sewing machine into our workshop, we inspect it for a warranty issue.


For genuine warranty issues that fall within our T&C guidelines the cost of this warranty collection/return service will be refunded.
We will adjust/repair & test your machine and call you to arrange a return day.

NOTE: In shopping cart please select the zero price shipping option.   eg. £0.00
Full terms and conditions
We would ask that you pop a note in with the machine to explain what the fault is and also a sewn sample of fabric showing the stitching problem.
Please also send the foot control and power lead, a bobbin case and spool with the machine. In the case of an embroidery machine where the problem is with the embroidery side of the machine, we would also need the embroidery unit and hoops. These are required to allow us to fully test before return. DO WE REQUIRE ALL ACCESSORIES INCLUDED.
Our usual repair turnaround is between 7 and 14 days after receiving the machine into our workshop, dependent on parts availability.
We are not asking you to pay for a warranty repair. The charge is for collection and return transportation to your door. If your machine is under 6 months old and the issue is a genuine warranty fault and falls within our T&C, this transportation amount will be refunded.
If you have not allowed a minimum 48 hours for us to book your collection we will inform you as soon as possible for another convenient date for collection.
If we arrange collection and you are unavailable for the collection or you do not allow the courier to collect as agreed, you will be charged to rebook the collection.
If you have booked a collection and wish to cancel you must inform us 2 working days by phone before the intended collection date, this it to allow us enough time to cancel the request with the courier company being used so that no charge is paid. If you don't notify us 2 working days before collection we can still cancel the collection request but it will be to late to cancel this with the courier company and it will be charged a minimum charge of £11. 
It is very important that the sewing machine is packed securely for transport by the carrier to prevent any damage in transit. In its original box with original packaging. It is your responsibility to ensure the machine is packed enough to provide adequate protection while in transit. If we arrange either a collection or return, we are unable to insure the machine during transportation unless it has been packed sufficiently in its original box and original packaging.
Please see below for a good example of how to pack your machine for transit if you no longer have the original box and packing. If your machine is delivered to us and on initial inspection is deemed by us to be insufficiently packed and it has received damaged in transit as a result of poor packing, neither ourselves and/or the courier used for the collection can be held responsible and we will be unable to claim for any damages, this may also increase the cost of repair and in the worst case scenario may damage your machine beyond repair. So we ask you please to ensure you take sufficient time and care to package your machine securely for its journey.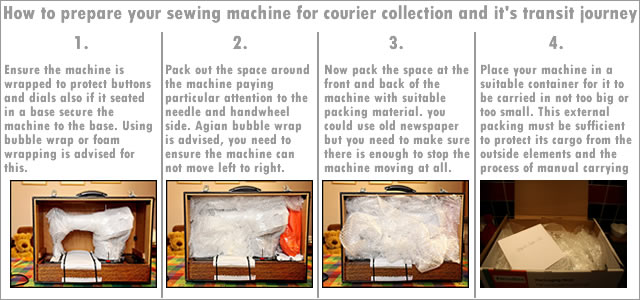 PLEASE NOTE: Warranty collection/return is only available to customers within UK mainland. and we are unable to offer this service for Large machines and large rotary irons.

Reviews
Quick & Easy

Using the Warranty Collection service was quick, easy and value for money. The machine was picked up promptly and I was kept informed about pick up and delivery.
Write A Review